Hike to Rara Lake
One of our biggest adventures so far takes us to Rara Lake in western Nepal. We heard that it was very strenuous, but that didn't stop us from going further west. After going on a walking safari in Bardia National Park and being very fascinated by the pristine life in the region, we decided that we would like to do the hike to Rara Lake. We were aware that it would be a hell of a journey to one of the possible starting points of the hike – but we didn't realise how gnarly the whole thing was in the end. The trek itself lives more through the experiences you have on the way than through the landscapes – which in our opinion were much more intense on the trek to Annapurna Basecamp, for example. But if you want to get to know the local traditional life in the underdeveloped west of Nepal, this is the place to be! Internet? Not possible? Electricity, yes, but only for a few hours a day! Signposting? Not a thing!
Everything important at a glance
Length: ~ 60 km
Duration: 6 -8 days incl. journey
Difficulty level: medium
Permits: Entrance fee for the Rara Lake Conservation Area
Route incl. Bus journeys: Bardia – Surketh- Kalikot – Jumla – Patmara – Bulbule – Rara Lake – Gamgadhi – Jumla – Surketh – Bandipur
Journey to Rara Lake
We all agree on one thing: the journey to Jumla must be one of the most intense we have ever experienced. But well, that is part of the adventure and creates unforgettable moments. As always, flying was not an option for us, so we looked for ways to get there by public transport. Here we have first outlined our journey.
Day 1: Bardiya (or other towns in Nepal) to Surketh:
In the morning, we set off from Bardia to Surketh, a journey that normally takes about 6 hours. First we have to go to the junction in Ambasa, from where we take a bus to Surketh. Actually, the bus should go all the way to Surketh … actually. After a while the brakes don't work anymore and we have to change to a minibus. Unfortunately, this one also has problems and we have to change vehicles again until we arrive in Surketh at noon. P.S. Surketh is easy to get to from many places in Nepal, such as Kathmandu and Pokhara.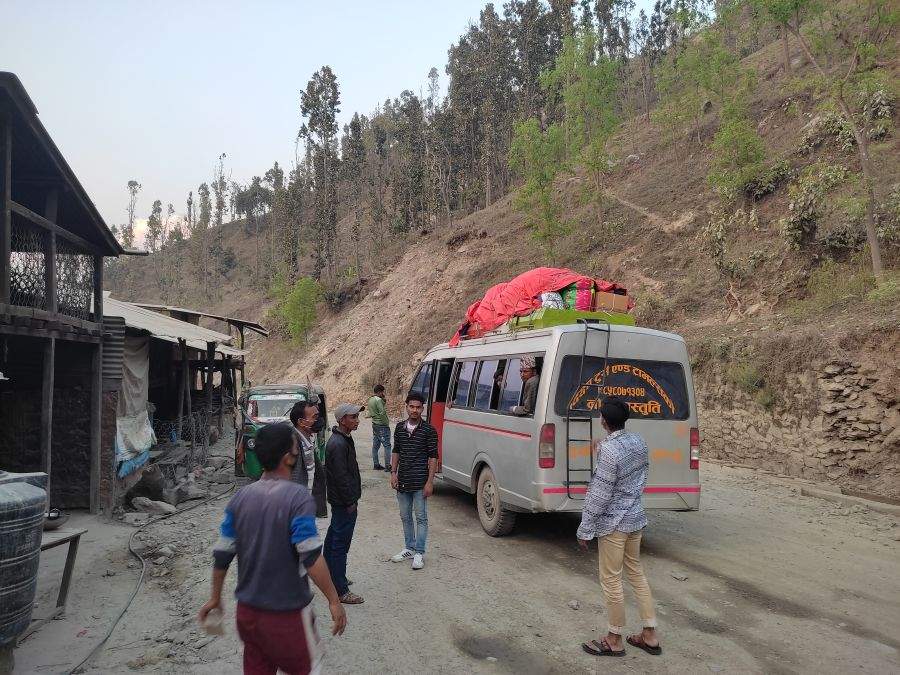 Day 1: Surketh nach Kalikot
Fortunately, there was another bus from Surketh to Kalikot on the same day. Squeezed, without any legroom and with people throwing up, we slowly moved on to the rickety part of the terrain. Sleeping is out of the question here, of course; there are no paved roads, but steep slopes without crash barriers or the like. Late in the evening, around 9 pm, we reach Kalikot, where we have a dal bhat and spend the night in a kind of barn.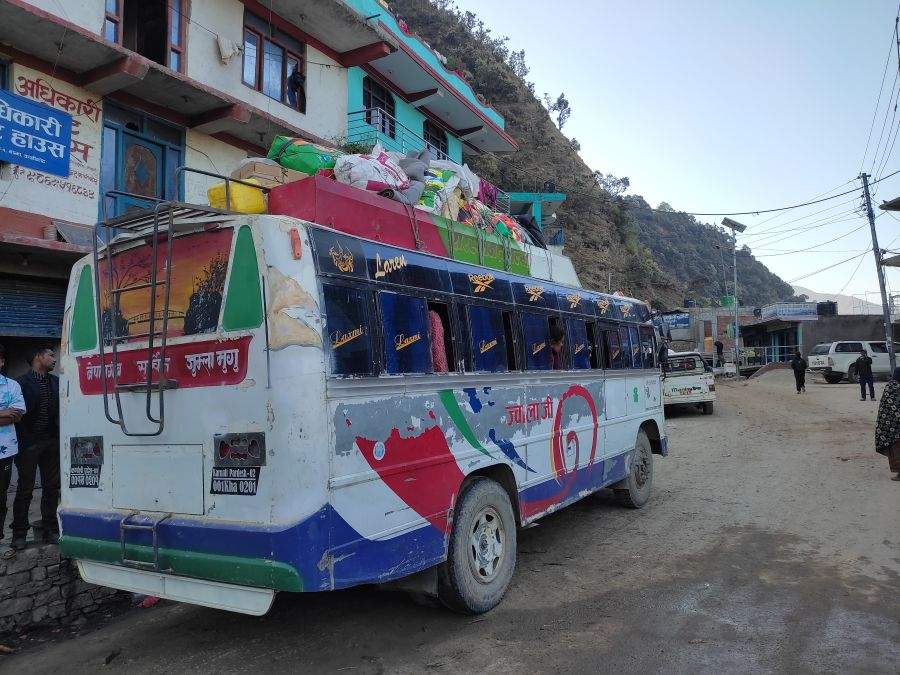 Day 2: Kalikot to Jumla
After a more or less sleepless night, we continue at 5am. On the way to Jumla we also have to change the vehicle 3 times. A burst tyre right on the slope, goats in the bus that pooped on our backpacks and even more vomiting people. Fortunately, the end was in sight. Here we went again all day without even a hint of comfort through unpaved roads, past the steepest slopes and great views. But we actually made it to Jumla, although it was a relieving and at the same time oppressive feeling to think that we would have to go all the way back again. Well, now we can look forward to the hike!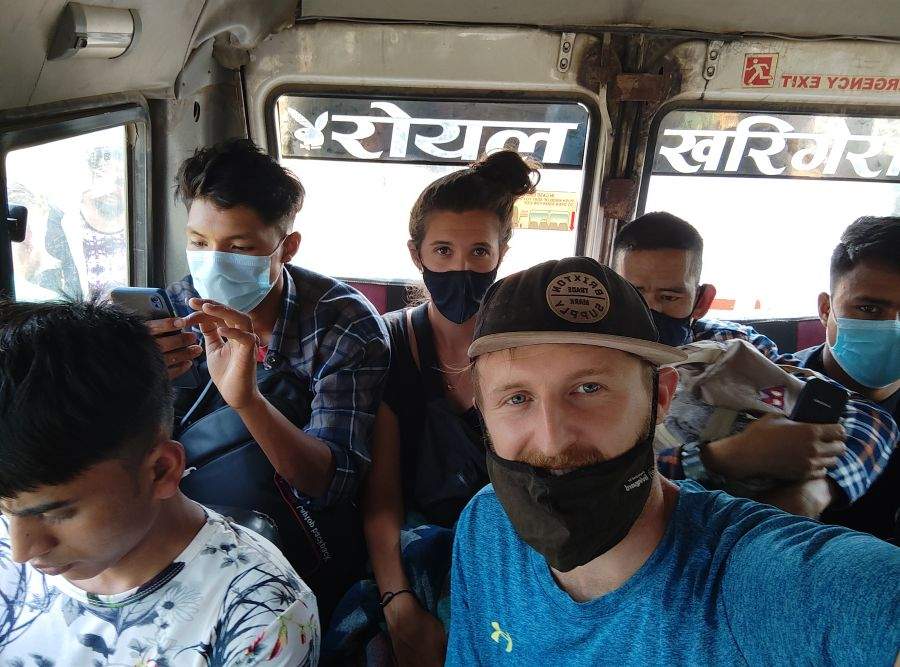 Itinerary of the hike
There are no fixed routes here, let alone a walking map. We just relied on our communication skills and Maps.me. Internet is rarely available on the road. The destination was clear – Rara Lake, on the map we marked places where we could sleep. Here is our itinerary, but we have to say that we had difficulties at the beginning, because Naomi was a bit shaken from the trip and got excited.
Day 3: Explore Jumla and have a restday
We have a look around the small town of Jumla, eat some delicious momos and buy snacks and fruits, especially bananas and Snickers for our upcoming hike. We stay at the Snowfall Hotel for 5 € per night.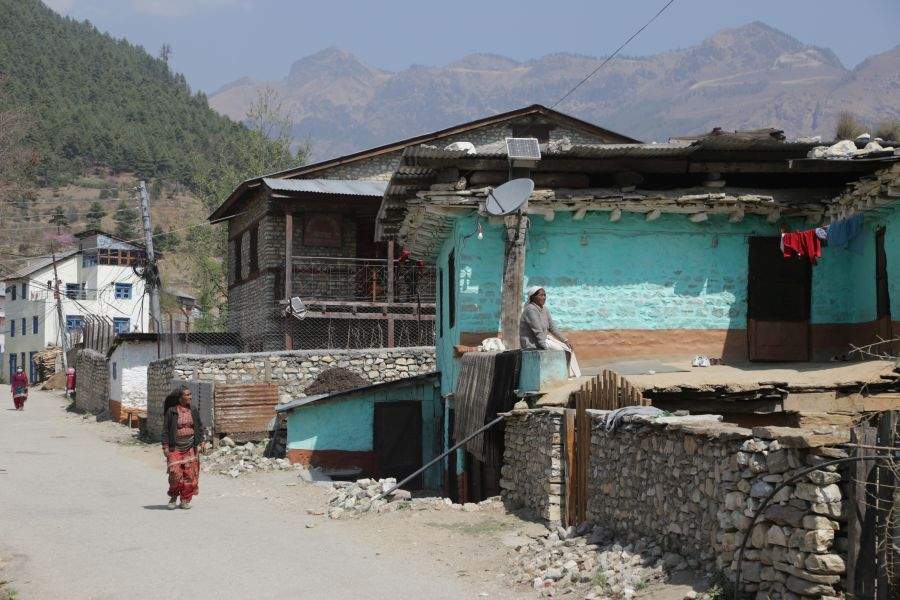 Day 4: Forced stop in Jumla
Unfortunately, Naomi was feeling a bit feverish that day, probably still suffering the after-effects of the bus journey, which is why we only made it to Jumla North and spent the night in a room there.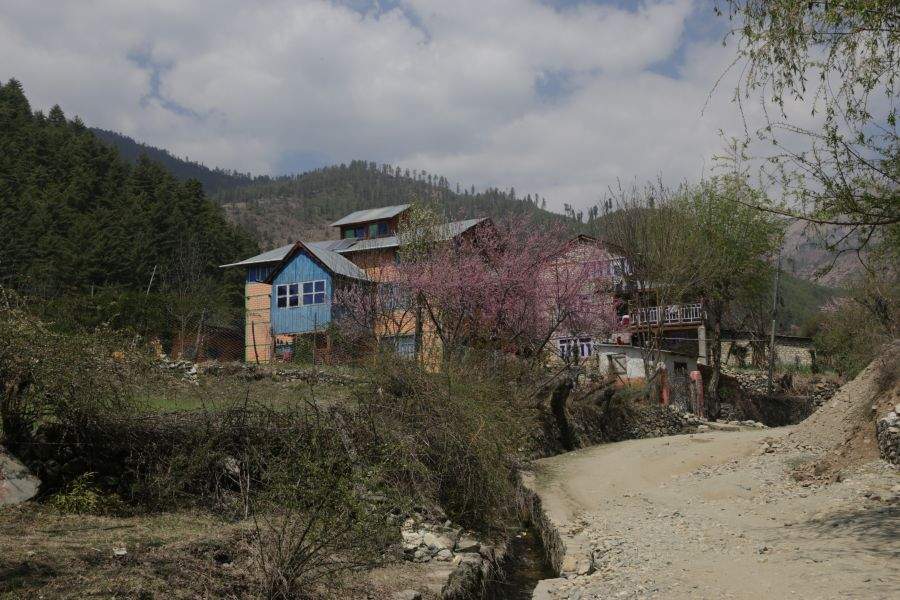 Day 5: Jumla to Patmara
On day 5, our regular hiking day finally started. First we walked along a road before we came across 2 guys running down the scree. We asked them, "Is this the way to Patmara?" They answered "yes", but there were no signposts or maps.me. So we went straight up the mountain and trusted the guys.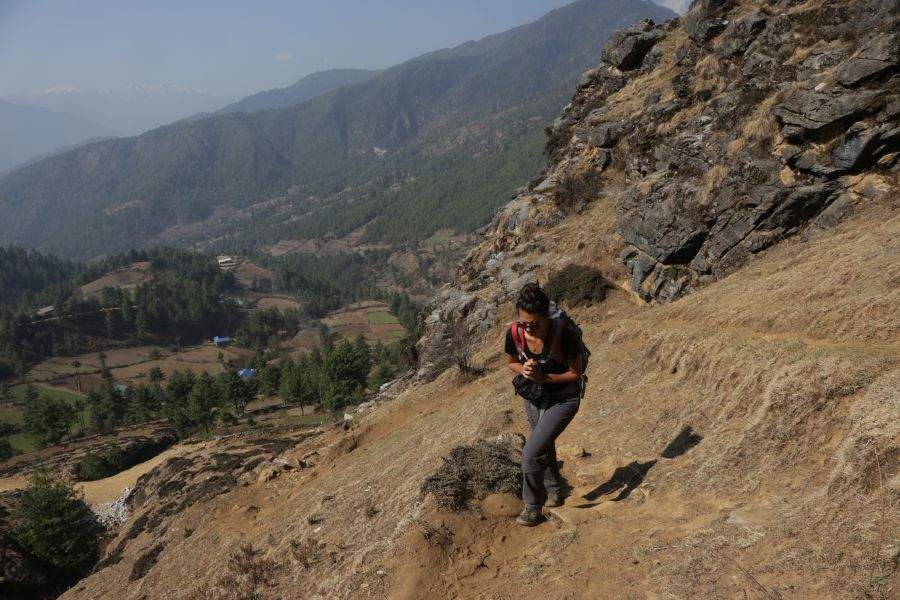 Once we reached the top, we went over a small pass on the other side and down into the valley. You can tell that you are on the right track by the cairn at the top of the pass. We walk past countless goatherds, lonely houses and through pine forests until we finally reach Patmara. This was actually our greatest adventure, as we felt like we were in Age of Empires a few eras back. We will tell you more about this in a separate article about our adventure in Patmara.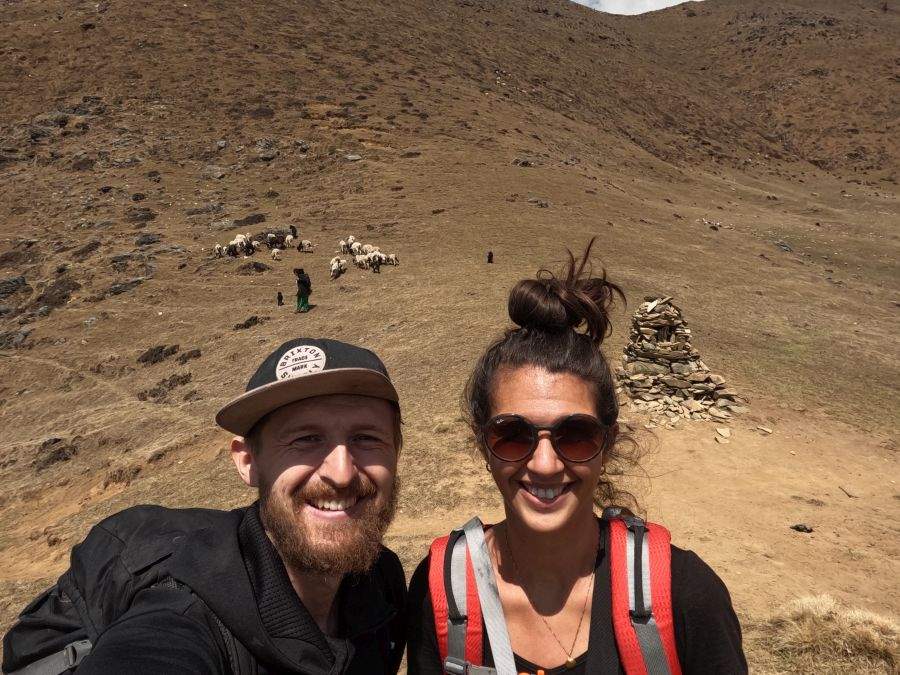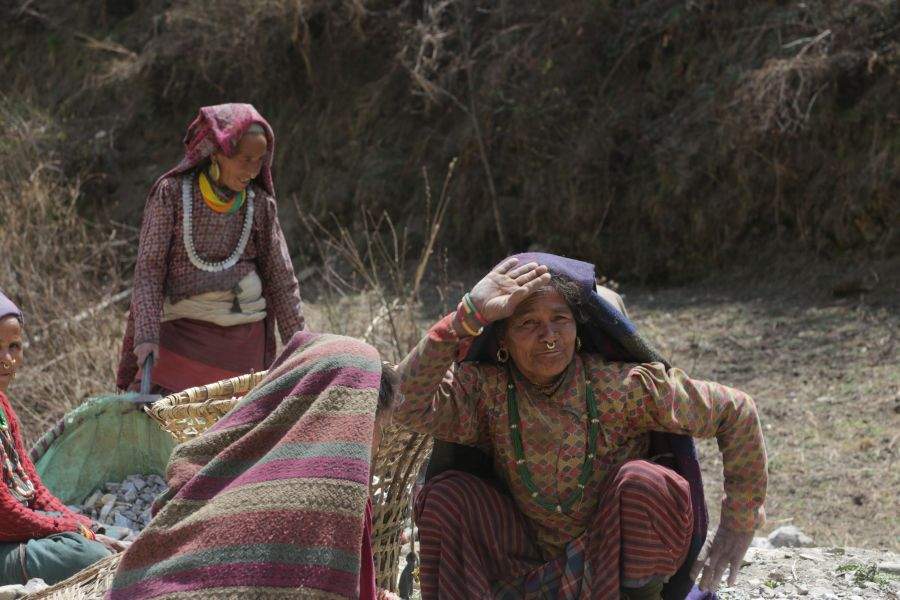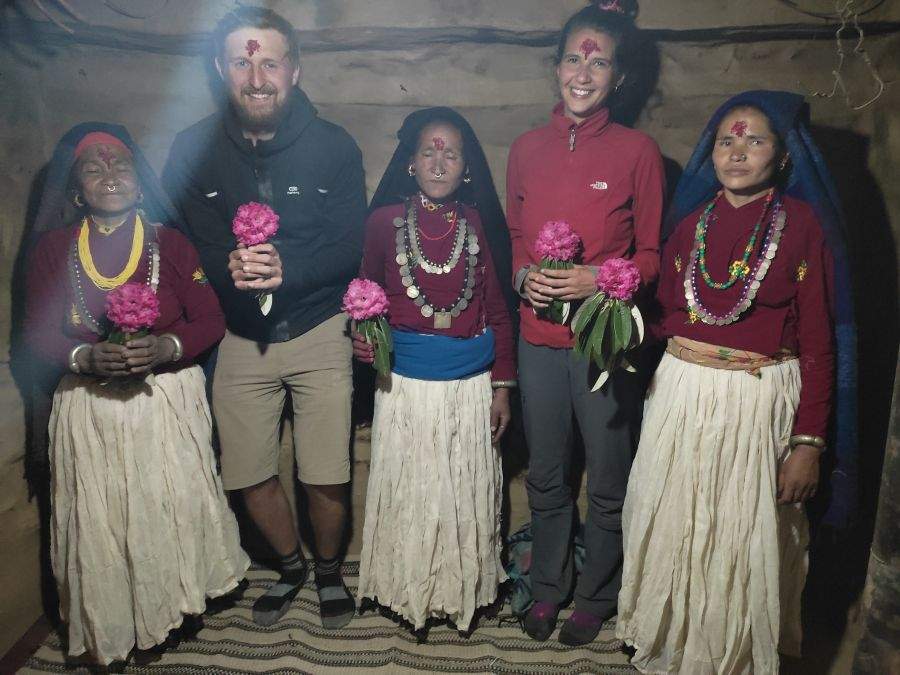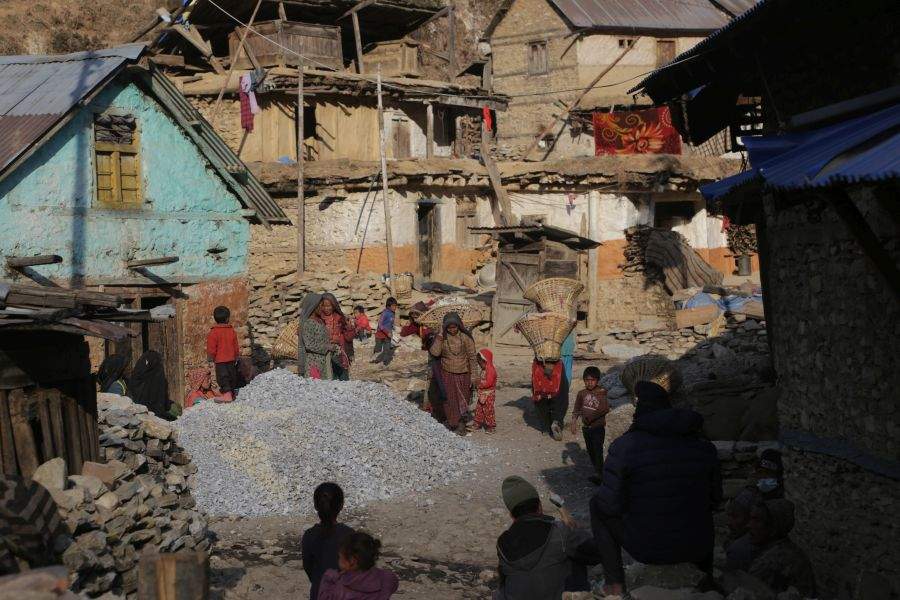 Day 6: Patmara to Bulbule
We started early in the morning, as we had set ourselves the goal of Bulbule and thus had over 20 km ahead of us. Depending on the altitude profile, that was quite a bit. We walked a lot along unpaved dirt roads, past many shepherds and through pine forests until we crossed a pass again. You can tell by the temperature that you are a bit higher again. There is also a shelter or two here, in case someone is too exhausted.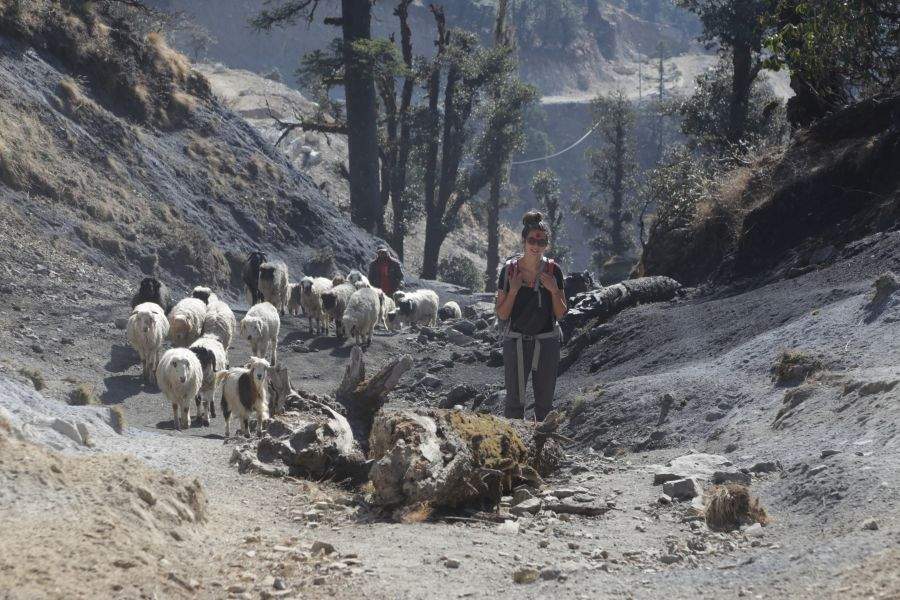 After that, we go down again, walk a lot along roads and finally reach a valley. Here we pass the small villages of Lateguad and Nurigad, which look more like somewhat larger resettlement farms. For a while we walk along the river, where we also take a short break, hang our feet in the water and fill up our Lifestraws. In Nurigad there was also some kind of accommodation, if I remember correctly. After walking along the river for a while, we turn right at the end of Nurigad (this is also the first time we saw a sign).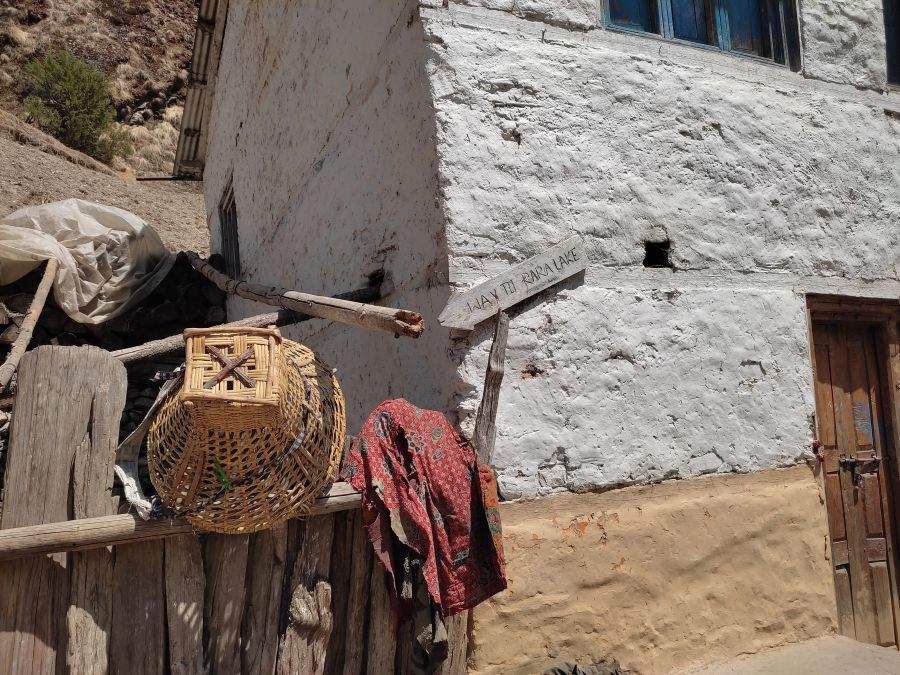 Here we climb a little steeper until we are on a kind of road again and pass the next village of Bhad, but this is on a slope, so you just walk past here.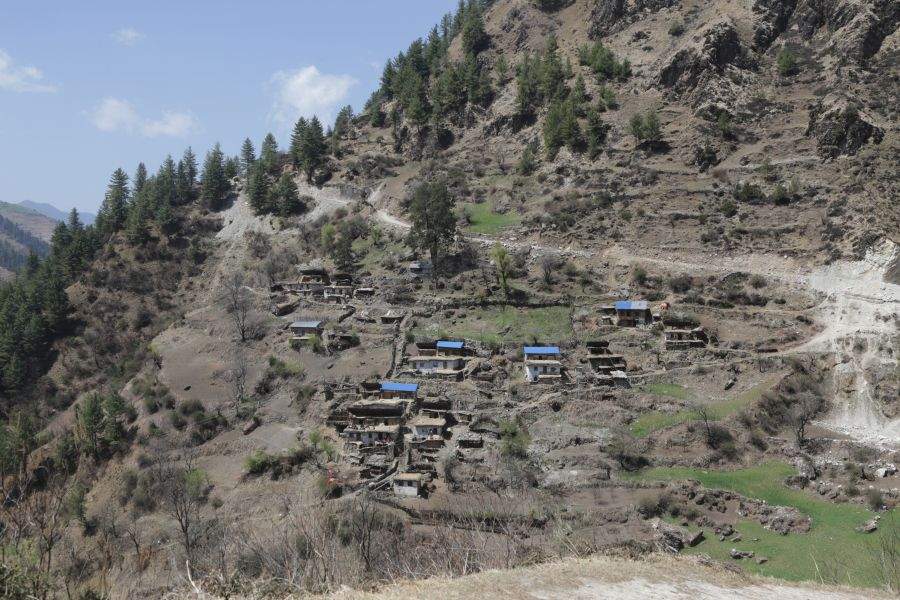 From Bhad, it's uphill and downhill over hill and dale again. At some point we hitchhike a little and get a lift from a tractor for 2 km, an adventurous trip if you look at the abrgünde and the bumping of the tractor. We sat behind the driver on the hubcaps. After some time we reach Chautha, which is situated in a valley. We think about it for a long time before we decide to walk the 1.5 hours to Bulbule. In Chautha there is also some accommodation. We walk mainly uphill before we arrive happily and exhausted in Bulbule, where we get a room in a primitive hostel for 600 NPR ( ~ 4 €). We eat a dal bhat or fried noodles and go to bed.
Day 7: Bulbule to Rara Lake
First we walk along a road and pass a military-managed entrance to the Rara Lake Conservation Area. We cross another small pass and walk on a small trail through a meadow until we follow the road again.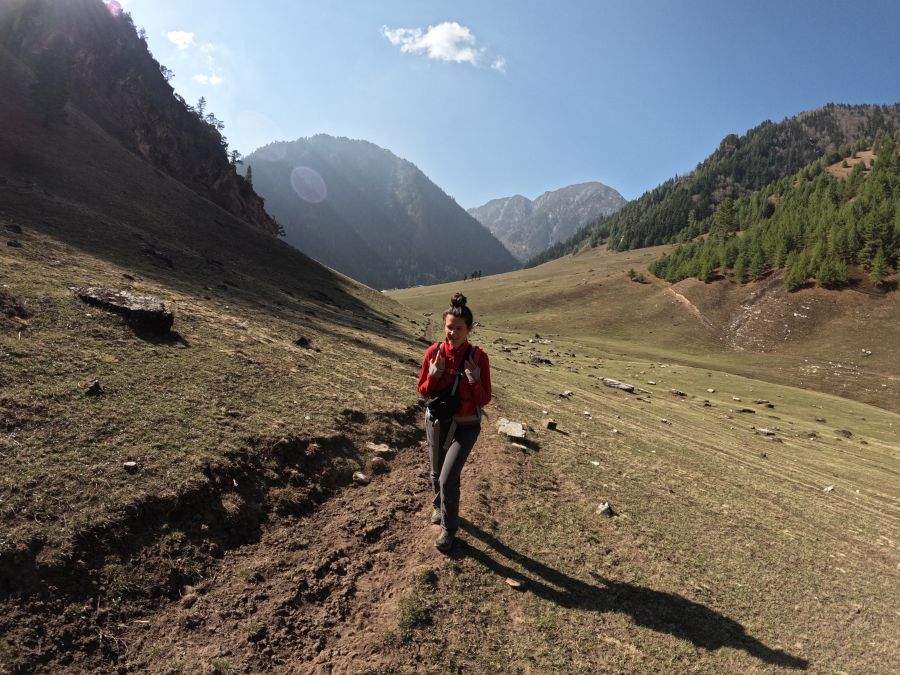 Passing Pina (which would also have been an option to stay overnight), we again follow the road a lot until we suddenly climb steeply to Jhayari, another exciting mountain village.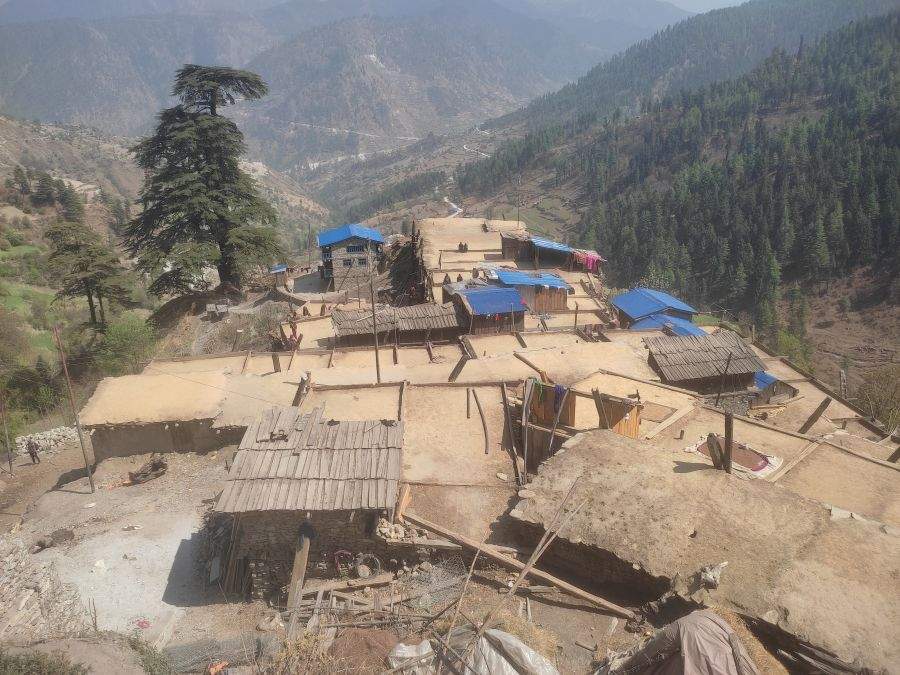 Here, about 20 people formed a human chain to finish building a house. We pass the village and continue steeply upwards through a pine forest. This path is quite strenuous. At the end of the path, a small place with various food offers suddenly appears. We soon realise that this is also the checkpoint where we have to buy our permits. We have lunch here and follow the Rara-Lake Road to the lake. We walk through gloomy pine forests, over paddocks to the trampling path that leads directly to the lake.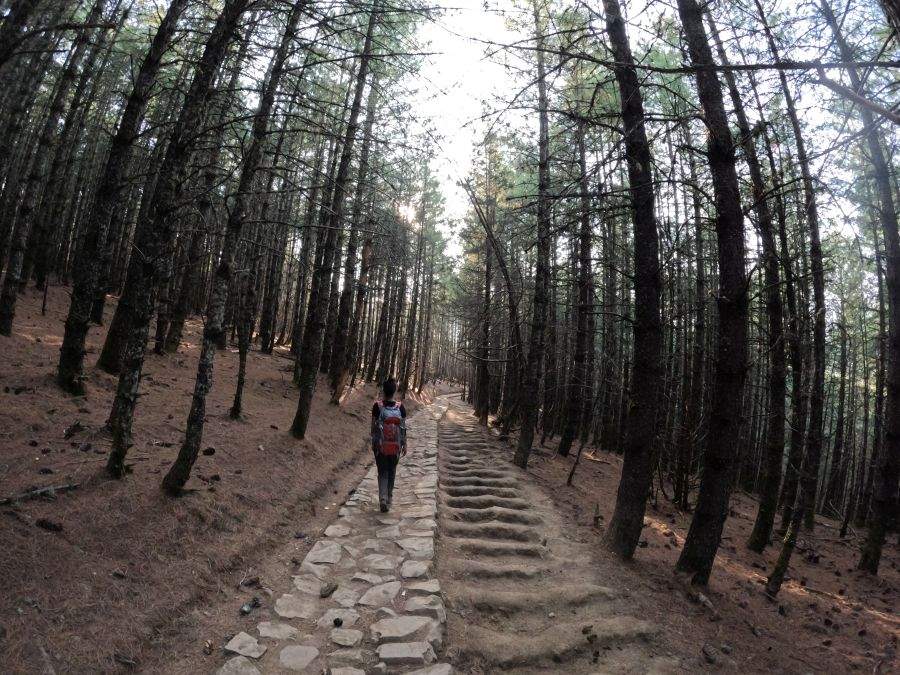 We continue over stepping stones for the last few metres until we finally see the lake for the first time. Facing the lake, we walk around to the left along the crystal-clear water for about half an hour until we reach our destination. We actually made it! Completely filthy and overjoyed, we walk along the lake until we reach our intended accommodation. The accommodation resembles a large barn, we decide to spend the night in one of the tents, which are already equipped with sleeping mats and sleeping bags. Here we met many Nepalese school classes and also 2 Europeans. After sunset, we had a quick meal and slept.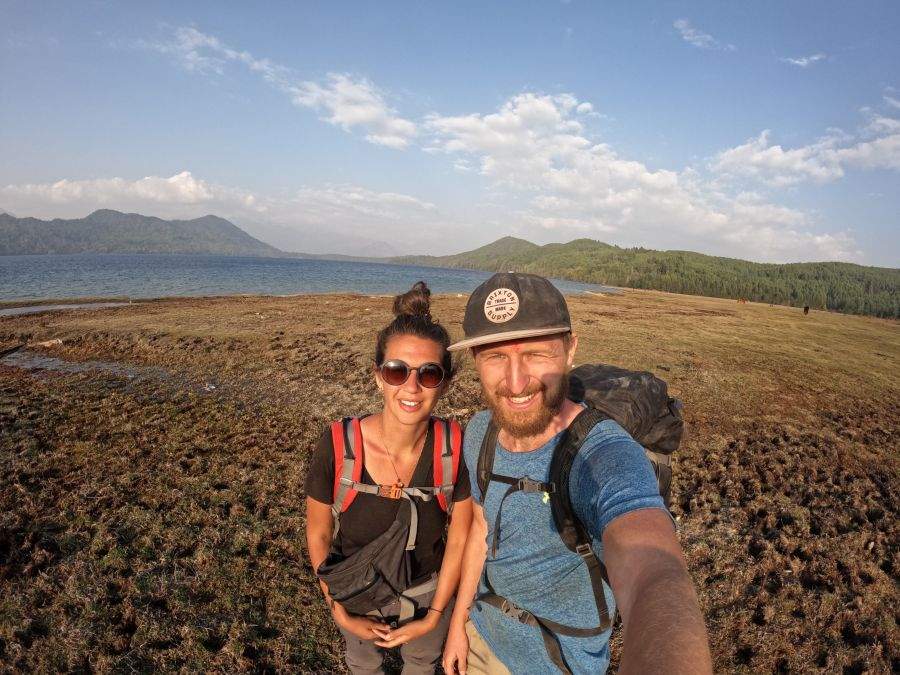 Day 8: Doing nothing
The next day was just spent relaxing, reading and strolling along the lake. The lake is super beautiful, but it's nothing that we don't have in the Alps. But the atmosphere, the path and the authentic flair is what makes this hike so special.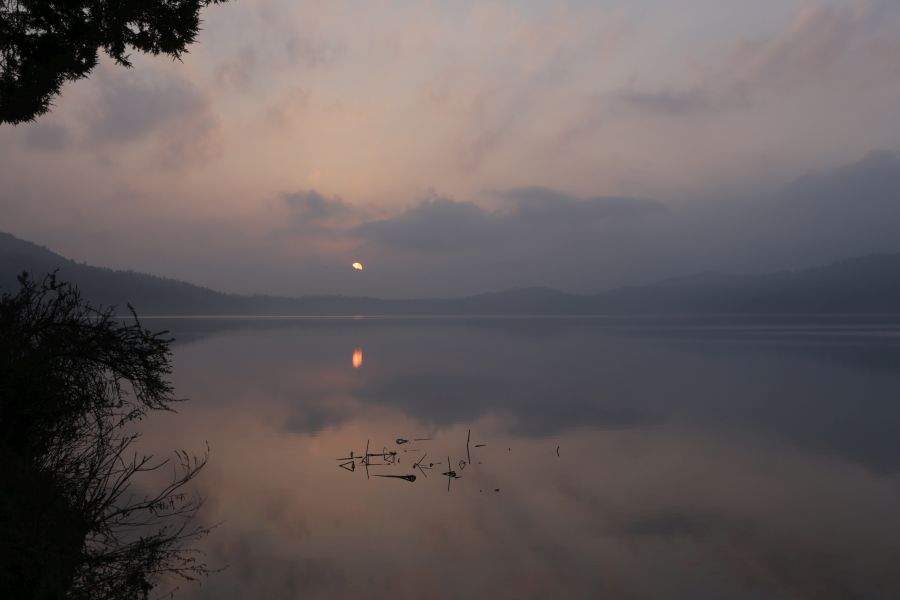 Day 9: Rara Lake to Gamgadhi
We were told that there would be buses from Gamgadhi back to Jumla. So we set off early in the morning and after about 3 hours we reach the place in question, where we were told that there would be another jeep only the next day. So we stay here for one night and have a look at the place and eat some fruit and relax a bit, even though we were a bit pissed off because it was a whole day wasted.
The departure from Rara Lake
Unfortunately, the departure was no more comfortable than the arrival. It would be an exaggeration to say that we knew what we were getting into, but we had a faint inkling.
Day 10: Gamgadhi to Jumla
The next morning we catch one of the jeeps that takes us back to Jumla. The drive takes a good 6 hours and you see what you have mostly hiked before. In Jumla we stay another night, pick up our things and continue the next morning. In the evening we quickly buy the tickets for the bus the next morning.
Day 11: Jumla to Kohalpur (Jeep)
Luckily we caught a jeep that went all the way to Kohalpur without an overnight stop in Kalikot (which we would not recommend). In the late evening we reach Kohalpur around 22:00, the driver kindly shows us a place to stay and we stayed here in a hotel. The journey is a bit more expensive than by bus but we didn't care at that stage. The jeep from Jumla to Kohalpur cost just under 17 € per person, but saved us a whole day.
Day 12: Bus Kohalpur to Bandipur
The next day we wanted to continue by bus towards Kathmandu, to get off in Bandipur on the way. We missed the early bus and had to take the late bus at 17:00. Again the lowest comfort level and almost 14 hours overnight we continued to Bandipur.
Unser conclusion:
Incredible experience but I don't think either of us would do it again.
How much does the hike to Rara Lake cost?
The trek to Rara Lake is super cheap, as it is very pristine. It is also much cheaper than the trek to Annapurna Base Camp. Here we have listed the prices per person if there are two of you. Otherwise it will be slightly more expensive. All in all, the two of us spent just under €350 with everything included, i.e. €175 per person.
| | |
| --- | --- |
| Output | Kosten |
| Permit | 3.000 NPR (~ 23 €) |
| Overnight stay 12 x in total | 12 x ~ 650 NPR = ~ 8.000 NPR (~ 60€) |
| Total catering (incl. snacks beforehand and Snickers) | 5.000 NPR (~ 75 €) |
| Arrival and departure | 7.000 NPR (~55 €) |
Packing list for your hike to Rara Lake
Packing lists are very individual and therefore naturally also very different. Ours looks like this:
Sunscreen
Lifestraw (there are always opportunities to refill this along the way)
Snacks (we were very happy about our Snickers)
1x warm jacket (wind and rain proof)
Offline map app (e.g. maps.me or mappy.cz)
Headlamp or torch
Pocket knife
Camera
Hiking boots
3x dry-fit shirts
Underwear
1x sports sweater
1x pair of hiking shorts
1x pair of trekking trousers (I wore a pair of cheap running trousers from Decathlon)
if necessary rain trousers
Rara Lake on your own or with a tour?
We did the trek on our own and would do it the same way again. If you feel insecure, you are of course in good hands with a guide. We looked at the route beforehand and there are a few places on the way to Rara Lake that we didn't worry about.
Accommodation on the way to the Rara Lake Trek
There is accommodation in the villages, but do not expect comfort. Some of them are multi-storey barns with partitions to separate the rooms from each other. We saw accommodation in Jumla, Patmara (there is no real accommodation here, but with a bit of tact you will be understood), on the pass to Patmara, in Nurigad (not 100% sure, but I think there would have been accommodation there), Chautha (there are several here), Bulbule (there are also several here), Pina (there should also be some here, although we did not go there ourselves), Rara Lake, Gamghadi (there are also several here).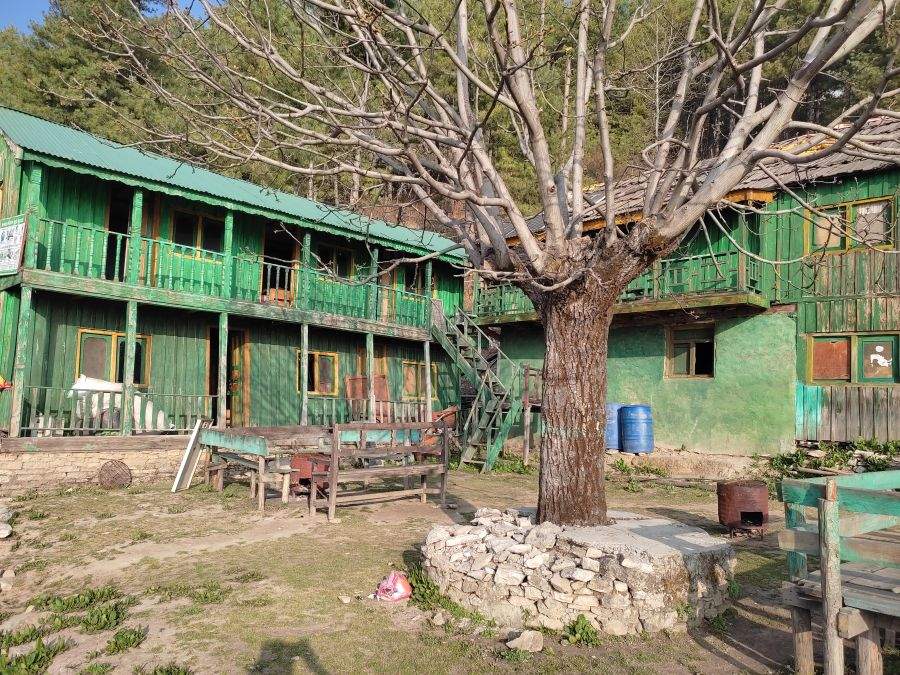 Meals during the Rara Lake Trek
There is usually not much choice here, but dal bhat is also simply the perfect energy-boosting lunch and dinner. Rice with lentils, potatoes, spinach and as much as you want. In the end, there was usually only a choice between dal bhat, fried tasteless Chinese noodles (chowein) and our snacks. But well, the food was perfectly okay and so at least we always had something warm. The only thing I can recommend is to carry a life-straw if you want to avoid carrying heavy water bottles. There were a few springs and places where you could refill them.
Transport to Rara Lake
The bottom line is that there are 4 possible means of transport to get to Rara Lake.
By plane:
Those who wish can travel to Jumla by plane or, as we did, by public transport.
By bus or minibus:
As the buses often do not run very frequently, we would recommend not to be picky, but to take the one that runs next. The small buses are usually a bit faster but also a bit more expensive than the big ones. The comfort is similarly manageable.
By jeep:
In addition to buses and minibuses, jeeps are also frequently used on the routes, which also offer space for several people. The jeep is much more expensive but also much faster and more comfortable.